***Louisiana v. TXST '16 Gameday Thread***
---------------------------------------
It's Gameday!
#PartyInTheEndzone
#ULLvsTXST
----------------------------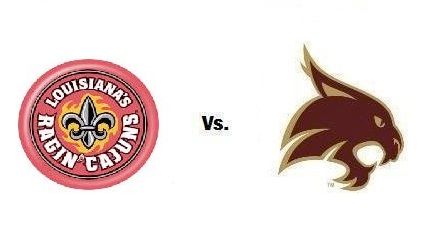 __________
Louisiana Lafayette Ragin' Cajuns (2-4,1-2 SBC)

_______

Texas State Bobcats (2-4, 0-2)
________
Texas State Gamenotes
Louisiana Game Notes
Ragin' Cajuns own us in all 3 meetings thus far. It's been a beatdown.
Rajin' Cajins are a 2 point favorite according to Sagarin
Can the team come together finally and take down Mark Hudspeth and his Ragin' Cajuns…
Gameday Central
Homecoming 2016!!!!!!
Parking info
2016 Tailgating Info
**Alumni Tailgate at 3:30PM today!!**
Transportation Info ( Gameday shuttle service & Traffic Flow)
If you want private transportation Uber does operate in San Marcos. If you are staying in Austin, download the Fare app and use referral code William116 to get around there.
Buy Tickets
Seating Chart
Video:
----
TV
: Stream it via chromecast, Roku, Playstation, XBox, AppleTV, whatever...so many options now these days.
----
ESPN3
On a mobile device, download the WatchESPN App
(only select cable providers)
We get Marc Hoenig for PXP and Bucky Godbolt as analyst. So at least the broadcasters are local, and maybe get some better knowledge on the team and some homerism.
----
Free Online Stream:
firstrowsports <--google that (not posting a direct link anymore, to many pop ups- navigate at your own risk and watch out for those porn ads)
Radio:
---
1300AM Austin / 930 AM San Antonio / 89.9 FM San Marcos
---
Bobcat Radio Network
---
Live Stats:
---
Statmonitor
---
@TxStateFootball
#ULLvsTXST
---
@txstatebobcats
Kickoff Info

:
---
Time:
6:00PM CT
---
Where:
Jim Wacker Field at Bobcat Stadium
| San Marcos, Texas
---
Weather:
0% chance of rain in the
forecast
. Fall is here!!!(For a couple of days anyways) Tailgate will be in the lower 70's all day peaking at 78° an hour before kickoff dropping into the 60's when the sun goes down. So bundle up and bring some money for the hot chocolate!!
Let's Go Cats!