Sun Belt Conference Tournament Thread - ESPN+
The 2018 SBC Tournament started today in Lafayette with the play in games.
Here's the official bracket going into the tournament: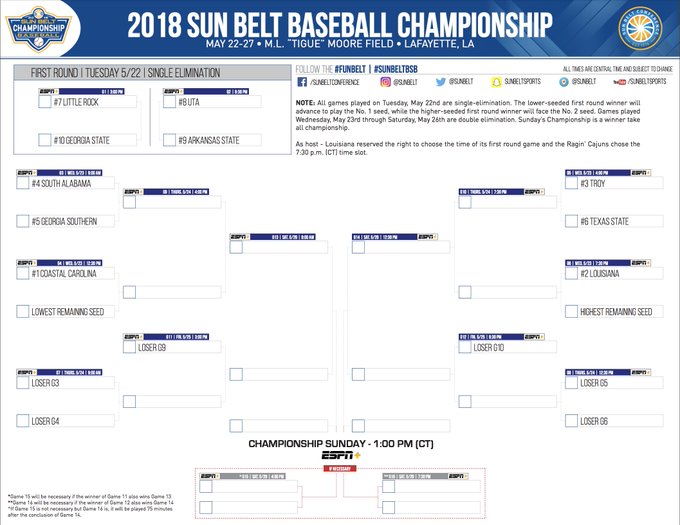 In today's play-in games Little Rock came from behind to knock out Georgia State and UTA took down Arkansas State in 10 innings.
Little Rock will enter our side of the bracket to play Louisiana tomorrow night. UTA will play Coastal tomorrow. GSU and A-State are eliminated. The rest of the tournament is double elimination.
The #6 seed Bobcats will play #3 seed Troy in the 3rd game Wednesday at approximately 4pm. Troy is the one team in the conference TXST didn't play in the regular season. Despite being the #3 seed, Troy is considered by most to be the 2nd best team in the Sun Belt this season. They finished with a better conference record than Louisiana, but Louisiana gets an automatic 2 seed by virtue of winning the west. Troy will also be playing hungry. They are a bubble team right now to get into the NCAA tournament and need a good conference tournament to get an at-large bid. Their RPI currently sits at 44. They lead the Sun Belt in both team batting average and team ERA.
The Bobcats will send their ace, Nick Fraze, to the mound. Fraze is 6-4 with a 3.10 ERA and is coming off a very nice performance Thursday night against UTA. Troy's ace, Andrew Crane, will
not
start tomorrow vs. the Bobcats. They must feel confident enough to beat us with their #2 guy to save Crane for a potential semi-final matchup with Louisiana on Thursday. Slap in the face to us if you ask me. That being said, their #2 guy has tremendous numbers since becoming a starter late in the season. The Trojans will send true freshman
Levi Thomas
to the mound. Thomas is 2-0 on the season with a stellar 0.90 ERA. He was used as a reliever for much of the year, but took over the Sunday starter spot 4 weeks ago, then the Saturday starter spot 2 weeks ago. Thomas has thrown 30 innings on the season, has struck out 42 to 15 walks, and is allowing opponents to hit just .112 on the season.
Relievers to look out for:
Closer
CJ Carter
has 8 saves and a whopping 29 appearances. He's pitched in over half of Troy's games this season and has pitched 61.1 innings. He's struck out 82 to 17 walks and allows a .212 batting average against.
Zack Lightsey
has a 1.23 ERA in 15 appearances and allows a .200 batting average against.
Jackson Cofer
also has 15 appearances with a 2.30 ERA. He's struck out 30 to just 6 walks with a .221 batting average against.
Troy's offense is extremely dangerous.
Senior OF
Joey Denison
was just named the 2018 Sun Belt player of the year. He had an absolutely ridiculous year. He led the Sun Belt in batting average (.390), RBI (70 - 11 more than 2nd in the league), doubles (22), total bases (131), and sac flies (9).
Many of the categories that Denison doesn't lead are led by senior SS
Matt Sanders
. He leads the league in runs scored (78), hits (86), and steal attempts (32 - stole 26 bases). Sanders is 2nd in the league behind his teammate in batting average with a .374 average.
OF
Rigsby Mosley
was named the 2018 Sun Belt freshman of the year and was 3rd on the team in batting average with a .339 average.
Sophomore 3rd baseman
Drew Frederic
was named 1st team all Sun Belt at 3rd base and hit .329 on the season.
1st baseman
Brody Binder
hit .309.
Troy hit .294 as a team to lead the Sun Belt. This team can hit.
All games of the tournament will be televised on the new ESPN+. ESPN+ costs $4.99/month but I plan to do a free 7 day trial to watch the tournament then cancel when it's over before dishing out the money for football season.
Weather will play a factor all week I'm sure as there is a chance of thunderstorms every day for the remainder of the tournament. UTA/A-state had about an hour long lightning delay today. Hopefully it won't disrupt the tournament too much.